All product information is provided by the supplier. The National Board of Social Services is not responsible for either contents, origin, flaws and deficiencies, or any kind of damage that may occur from the use of the information. The National Board of Social Services has no authority to endorse products and does not assess the quality of the products.
Hide this message
.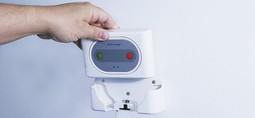 CareCom DECT Basic is a 2-way conversation unit that can be used in Tunstalls wireless personal security systems. The unit is wireless, so it can be moved around the care center as needed. That provides a unique opportunity to equip selected residents with their own conversation device, which may placed at the most appropriate place in the home.
Classification
22 24 27 01 - Intercoms
The product series contains 1 product.
Product 1 of 1


CareCom DECT Basic

Registration date

26-05-2016