All product information is provided by the supplier. The National Board of Social Services is not responsible for either contents, origin, flaws and deficiencies, or any kind of damage that may occur from the use of the information. The National Board of Social Services has no authority to endorse products and does not assess the quality of the products.
Delete this message
Todelt klapbar dørtrinsrampe i aluminium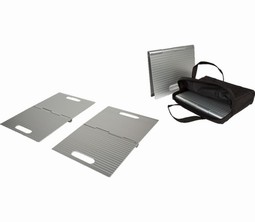 The DS4026 are folding threshold ramps made of aluminium with an anti-skid surface. The ramps have milled handles and are equipped with a longitudinally running hinge for folding.
Classification
18 24 12 04 - Threshold ramps, double-sided
The product series contains 1 product.
Product 1 of 1


Threshold ramp

-

Registration date

01-02-2017

Specifications
Length in direction of travel
40
cm
Width
25
cm
Threshold height, min
12
mm

The minimal height of threshold that the ramp can be used with

Threshold height, max
50
mm

The maximum height of threshold that the ramp is intended for

Weight
4.4
kg
Load, max
350
kg
Outdoor use
Yes
Indoor use
Yes