All product information is provided by the supplier. The National Board of Social Services is not responsible for either contents, origin, flaws and deficiencies, or any kind of damage that may occur from the use of the information. The National Board of Social Services has no authority to endorse products and does not assess the quality of the products.
Hide this message
.
SELECT toilet lifter. Wide powered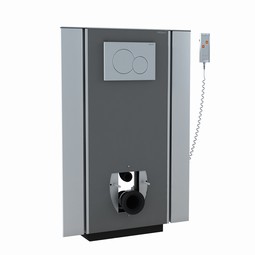 Wide toiletlifter prepared for mounting of height-adjustable PLUS support arms. with front plate available in white, anthracite and lime green.
Available with floor and wall outlet.
Classification
18 15 06 01 - Height-adjustable plinths and brackets
The product series contains 2 products.
Product 1 of 2


SELECT toilet lifter. Wide powered

300 mm height-adjustable with the hand control.

For floor outlet

Materials: anodized aluminium and polystyrene (PS) front plate.

Incl. fixing kit for brick wall.

Registration date

21-08-2017
Product 2 of 2


SELECT toilet lifter. Wide powered

300 mm height-adjustable with the hand control.

For wall outlet

Materials: anodized aluminium and polystyrene (PS) front plate.

Incl. fixing kit for brick wall.

Registration date

21-08-2017