All product information is provided by the supplier. The National Board of Social Services is not responsible for either contents, origin, flaws and deficiencies, or any kind of damage that may occur from the use of the information. The National Board of Social Services has no authority to endorse products and does not assess the quality of the products.
Hide this message
.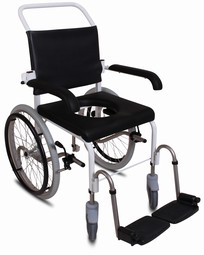 Classification
09 12 03 24 - Commode wheelchairs
The product series contains 1 product.
Product 1 of 1


BUZZ 3 Toilet-badestol m/drivhjul og højdeindstilling

Registration date

02-05-2018

Specifications
User weight, max
150
kg
Total weight
16
kg
Total width
60.5
cm
Width between arm supports
45
cm
Seat height, min
46
cm
Seat height, max
61
cm
Can be placed over a toilet with max heigth
54
cm
Seat depth
43
cm
Toilet opening width
21.5
cm
Tension adjustable back rest upholstery
Yes
Arms supports hinged
Yes
Arm supports pivoting
No
Arm support position may be changed to facililtate transfer
Yes
Fold-up foot supports
Yes
Height adjustable legrests
Yes
Elevating legrests
Yes
Removable legrests
Yes
Pivoting legrests
Yes
Legrest position may be changed to facililtate hygiene and transfer
Yes
Can be used with standard wall-mounted toilets (without extension)
No
Intended for children
No

Products for children must comply with the specific demands for safety as stated in certain standards. It is the supplier of the product who has stated that the product is intended for children. The National Board of Social Services holds no responsibility in relation to this assessment.