All product information is provided by the supplier. The National Board of Social Services is not responsible for either contents, origin, flaws and deficiencies, or any kind of damage that may occur from the use of the information. The National Board of Social Services has no authority to endorse products and does not assess the quality of the products.
Hide this message
.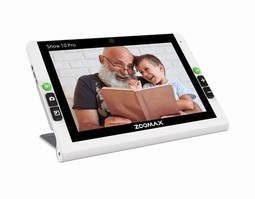 Reads aloud a full page of text through OCR. Built in guidelines for easier reading. Integrated MP3 player. Touch screen.
Classification
22 03 18 07 - Handheld video magnifiers with an integrated monitor (CCTV)
The product series contains 1 product.
Product 1 of 1


Snow 10 Pro

Registration date

03-04-2018

Properties

Mains supply connection

Yes

Measures

Apparatus lenght

28

cm
The longest measure
Monitor size
10
"
Diagonal measure
Test information
No information about tests according to standards
CE-marking
The supplier has provided the following information about CE-marking of the product.
Explain CE-marking
Restriction of the use of certain hazardous substances (RoHS) - 2011/65/EU

Other specifications
OCR reads aloud a full page of text. Built-in guide lines and curtains. Integrated MP3 compatible music/sound player. Touch-sensitive display.