All product information is provided by the supplier. The National Board of Social Services is not responsible for either contents, origin, flaws and deficiencies, or any kind of damage that may occur from the use of the information. The National Board of Social Services has no authority to endorse products and does not assess the quality of the products.
Hide this message
.
Seat wedge cushion 45 x 45 cm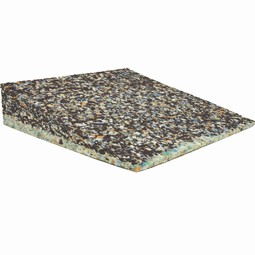 Seat wedge cushion that promotes correct sitting posture to prevent pain in your back. The cushion is made from granulate foam, giving it strength and flexibility. The cushion normally comes without a pillowcase, but waterproof pillowcases can be bought separately.
Classification
18 10 06 10 - Cushions with a special shape
The product series contains 3 products.
Product 1 of 3


Seat wedge cushion 10/1 cm incline

Registration date

22-11-2018
Properties
Intended for children
No

Products for children must comply with the specific demands for safety as stated in certain standards. It is the supplier of the product who has stated that the product is intended for children. The National Board of Social Services holds no responsibility in relation to this assessment.

The cushion as a whole is machine washable
No
Measures
Width
45
cm
Depth
45
cm

Measured at the deepest point corresponding to the seat depth of the chair

Height
10
cm

Measured at the thickest point

Weight
1500
g
User weight, max
150
kg
Product 2 of 3


Seat wedge cushion 6/1 cm incline

Registration date

22-11-2018
Properties
Intended for children
No

Products for children must comply with the specific demands for safety as stated in certain standards. It is the supplier of the product who has stated that the product is intended for children. The National Board of Social Services holds no responsibility in relation to this assessment.

The cushion as a whole is machine washable
No
Measures
Width
45
cm
Depth
45
cm

Measured at the deepest point corresponding to the seat depth of the chair

Height
6
cm

Measured at the thickest point

Weight
1200
g
User weight, max
100
kg
Product 3 of 3


Seat wedge cushion 8/1 cm incline

Registration date

22-11-2018
Properties
Intended for children
No

Products for children must comply with the specific demands for safety as stated in certain standards. It is the supplier of the product who has stated that the product is intended for children. The National Board of Social Services holds no responsibility in relation to this assessment.

The cushion as a whole is machine washable
No
Measures
Width
45
cm
Depth
45
cm

Measured at the deepest point corresponding to the seat depth of the chair

Height
8
cm

Measured at the thickest point

Weight
1200
g
User weight, max
150
kg