All product information is provided by the supplier. The National Board of Social Services is not responsible for either contents, origin, flaws and deficiencies, or any kind of damage that may occur from the use of the information. The National Board of Social Services has no authority to endorse products and does not assess the quality of the products.
Hide this message
.
Bed table with angular adjustment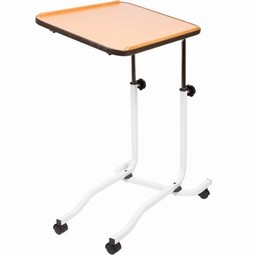 Bed table that can be height adjusted between 72 - 110 cm without the use of tools. The table has wheels for easy moving, the wheels can be locked. The tabletop has raised edges and can be adjusted by angle so that you can use it as a book holder.
Classification
18 03 15 02 - Bed tables without cabinet
The product series contains 1 product.
Product 1 of 1


Height adjustable bed table

Registration date

22-11-2018
Properties
Number of wheels with brake
4
Height adjustable, manual
Yes
Height adjustable
Yes
Angle adjustable tabletop
Yes
Raised edge
Yes
Can be used in combination with a chair
Yes
With side plate
No
Measures
Height of table, min
78
cm
Height of table, max
110
cm
Length
55
cm
Width
41
cm
Weight
7.5
kg
Load, max
15
kg
Test information
Though the product is testet, it might not have passed all requirements in the standard. Besides, some products are only tested according to parts of the standard. Read the test report for detailed information.
EN 12182:2012: Assistive products for persons with disability - General requirements and test methods.
Test lab: Centre for Testing and Certification. Test date: 24-01-2018
Test report for HMI-no. 100687