All product information is provided by the supplier. The National Board of Social Services is not responsible for either contents, origin, flaws and deficiencies, or any kind of damage that may occur from the use of the information. The National Board of Social Services has no authority to endorse products and does not assess the quality of the products.
Hide this message
.
Oras demens faucet solution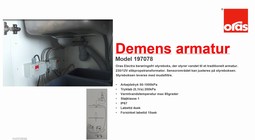 Solution for use on the existing solution. This solution ensures that the water does not stand and runs if you forget to turn off the tap.
When you stand in front of the cock, the systm will open for the water and if you go away from the tap, the system closes for the water.
Good solution at home with people affected by dementia.

Classification
18 24 03 03 - Fittings  
Video
Play video
The product series contains 1 product.
Product 1 of 1


Oras Demencia faucet solution

Registration date

27-11-2018