All product information is provided by the supplier. The National Board of Social Services is not responsible for either contents, origin, flaws and deficiencies, or any kind of damage that may occur from the use of the information. The National Board of Social Services has no authority to endorse products and does not assess the quality of the products.
Delete this message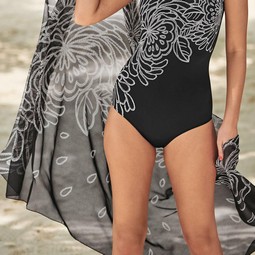 Anita Care Mascara Black and white swimsuit. Elegant and classic swimsuit with lightly padded bowls, supportive lining and pockets in the bowls so it can be used for inlays or prostheses. Adjustable shoulder straps.
A nice swimsuit with a shape effect.
Classification
09 03 33 01 - Bathing suits
The product series contains 1 product.
Product 1 of 1


Mascare Care Swimsuit

Sizes: 38-48

Cup size: B-C and D

Color: Black with white print

Registration date

28-05-2019

Specifications
| | | |
| --- | --- | --- |
| Incontinence | No | |
| Intended for children | No | |
| For breast prostesis | Yes | |