All product information is provided by the supplier. The National Board of Social Services is not responsible for either contents, origin, flaws and deficiencies, or any kind of damage that may occur from the use of the information. The National Board of Social Services has no authority to endorse products and does not assess the quality of the products.
Delete this message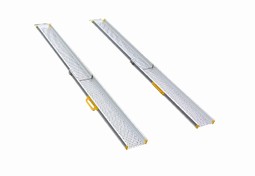 Our telescopic ramps make it possible to overcome height differences of up to 63 cm. The ramps are made of aluminum, which gives them a low self-weight, just as their design makes them take up minimal space. With a telescopic ramp you therefore get a ramp that is easy to handle, to transport and to store.
Classification
18 30 15 08 - Track ramps
The product series contains 3 products.
Product 1 of 3


Telescopic ramp

Registration date

17-06-2019

Specifications
Load, max
270
kg

For both track ramps and ramps please state the allowed load pr. item.

Weight
7
kg

Weight per track

Actual length in use, min
120
cm

The minimum length in use of the track excluding lips

Actual length in use, max
120
cm

The maximum length in use of the track excluding lips

Transportation length
81
cm
Transportation width
27
cm
Foldable
No
Length adjustable
Yes
Internal width
21
cm
External width
21.2
cm
Non-slip surface
Yes
Indoor use
Yes
Outdoor use
Yes
Lip, top
No
Lip, bottom
No
Carrying handle
Yes
Guardrail height
5.5
cm
Product 2 of 3


Telescopic ramp

Registration date

17-06-2019

Specifications
Load, max
270
kg

For both track ramps and ramps please state the allowed load pr. item.

Weight
8.5
kg

Weight per track

Actual length in use, min
150
cm

The minimum length in use of the track excluding lips

Actual length in use, max
150
cm

The maximum length in use of the track excluding lips

Transportation length
105
cm
Transportation width
27
cm
Foldable
No
Length adjustable
Yes
Internal width
21
cm
External width
21.2
cm
Non-slip surface
Yes
Indoor use
Yes
Outdoor use
Yes
Lip, top
No
Lip, bottom
No
Carrying handle
Yes
Guardrail height
5.5
cm
Product 3 of 3


Telescopic ramp

Registration date

17-06-2019

Specifications
Load, max
270
kg

For both track ramps and ramps please state the allowed load pr. item.

Weight
11
kg

Weight per track

Actual length in use, min
210
cm

The minimum length in use of the track excluding lips

Actual length in use, max
210
cm

The maximum length in use of the track excluding lips

Transportation length
127
cm
Transportation width
27
cm
Foldable
No
Length adjustable
Yes
Internal width
21
cm
External width
21.2
cm
Non-slip surface
Yes
Indoor use
Yes
Outdoor use
Yes
Lip, top
No
Lip, bottom
No
Carrying handle
Yes
Guardrail height
5.5
cm