All product information is provided by the supplier. The National Board of Social Services is not responsible for either contents, origin, flaws and deficiencies, or any kind of damage that may occur from the use of the information. The National Board of Social Services has no authority to endorse products and does not assess the quality of the products.
Delete this message
SCHWEIZER MULTILIGHT LED Pocket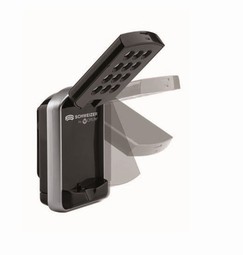 Practical and efficient small flap LED worklight. Fits any pocket that comes in 3 different color temperatures 2700K, 4500K and 6500K. Turns on and off automatically as the head opens and closes.
Classification
18 06 06 09 - Folding pocket lamps
The product series contains 3 products.
Product 1 of 3


MULTILIGHT LED Pocket 2700 K

Registration date

15-07-2019

Specifications
Integrated bulp
Yes
Heat neutral
Yes
With dimmer
No
Lumen, integrated bulp
220
lm
Colour temperature, integrated bulp
2700
Kelvin
Adjustable colourtemperature
No
Anti-dazzle
Yes
Weight including batteries
70
g
Portable
Yes

With battery
Product 2 of 3


MULTILIGHT LED Pocket 4500 K

Registration date

24-07-2019

Specifications
Integrated bulp
Yes
Heat neutral
Yes
With dimmer
No
Lumen, integrated bulp
230
lm
Colour temperature, integrated bulp
4500
Kelvin
Adjustable colourtemperature
No
Anti-dazzle
Yes
Weight including batteries
70
g
Portable
Yes

With battery
Product 3 of 3


MULTILIGHT LED Pocket 6500 K

Registration date

24-07-2019

Specifications
Integrated bulp
Yes
Heat neutral
Yes
With dimmer
No
Lumen, integrated bulp
250
lm
Colour temperature, integrated bulp
6500
Kelvin
Adjustable colourtemperature
No
Anti-dazzle
Yes
Weight including batteries
70
g
Portable
Yes

With battery