All product information is provided by the supplier. The National Board of Social Services is not responsible for either contents, origin, flaws and deficiencies, or any kind of damage that may occur from the use of the information. The National Board of Social Services has no authority to endorse products and does not assess the quality of the products.
Delete this message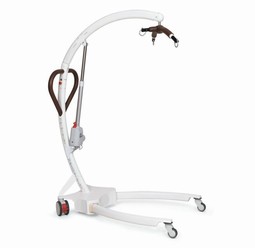 Alu lift 185 has a 3-point hanger bar and a 4-point hand control. Faaborg Alu lift can be supplemented with a compact, electric and medically approved lift scale with memory function. Alu lift 185 is equipped with electrical spreading of the legs. The rear wheels are double and allow easy transport, also on carpets. Padded hanger bar is standard.
Classification
12 36 03 04 - Mobile hoists for transferring a person in sitting position with sling seats
The product series contains 1 product.
Product 1 of 1


Faaborg Alu Lift 185

Registration date

08-08-2019

Specifications
User weight, max
250
kg
Hoisting range
107
cm

The difference between the maximum and minimum heights measured at the central suspension point.

Electrical lifting mechanism
Yes
Parallel lifting movement
No
Electrical width adjustment of base
Yes
Parallel width adjustment of base
No
Internal width of base, max
87
cm

Measured with the base in the widest position

External width of base, min
70
cm

Measured with the base in the narrowest postion

Height of base at front
7
cm
Turning diameter
130
cm

Diameter of the narrowest circle encompassing the extreme points of the hoist, when it is turned 360 degrees without beeing reversed.

Foldable
No
Can be disassembled without tools
No
Weight of heaviest main part
8
kg
Can lift from floor level
Yes
Standing mobile hoist unit available
No
Integrated battery charger
Yes
Emergency lowering function
Yes
Maintenance frequency
12
måneder