All product information is provided by the supplier. The National Board of Social Services is not responsible for either contents, origin, flaws and deficiencies, or any kind of damage that may occur from the use of the information. The National Board of Social Services has no authority to endorse products and does not assess the quality of the products.
Hide this message
.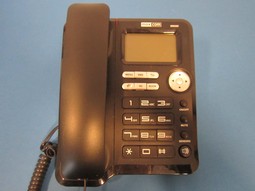 AXCOM SIM is similar to a regular desk phone with display, but is with SIM card so now you can also send and receive SMS messages. Danish language menu, storing 600 contacts. 30 dB volume and 90 dB in ringtone. MAXCOM SIM can be placed anywhere. Recommended to be plugged in. No expensive phone bills, only mobile subscription.
Classification
22 24 06 01 - Mobile telephones
The product series contains 1 product.
Product 1 of 1


MaxCom Sim 3G

Registration date

04-02-2020

Properties

Silent alert (vibration)

No

Measures

Standby time per charge, max

120

timer

Max talk time per charge

2

timer

Test information

No information about tests according to standards
CE-marking
No information about CE-marking
The supplier has not provided any information about CE-marking of the product.
Explain CE-marking