All product information is provided by the supplier. The National Board of Social Services is not responsible for either contents, origin, flaws and deficiencies, or any kind of damage that may occur from the use of the information. The National Board of Social Services has no authority to endorse products and does not assess the quality of the products.
Hide this message
.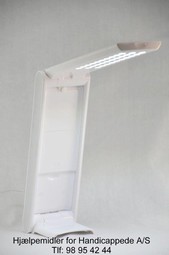 Classification
18 06 06 09 - Folding pocket lamps
The product series contains 1 product.
Product 1 of 1


Lampe Foldi LED

Registration date

17-02-2020

Properties

Adjustable colourtemperature

No

Measures

Lumen, integrated bulp

150

lm

Colour temperature, integrated bulp

6000

Kelvin

Weight including batteries

600

g

Test information

No information about tests according to standards
CE-marking
No information about CE-marking
The supplier has not provided any information about CE-marking of the product.
Explain CE-marking