All product information is provided by the supplier. The National Board of Social Services is not responsible for either contents, origin, flaws and deficiencies, or any kind of damage that may occur from the use of the information. The National Board of Social Services has no authority to endorse products and does not assess the quality of the products.
Hide this message
.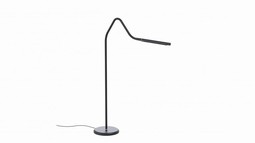 Electra Floor Lamp provides consistent, high-quality light to suit your needs. This lighting solution boasts an advanced color temperature feature that allows you to select the perfect lighting for your comfort. Choose from daylight to reduce eye strain, cool light for unobtrusive background lighting or warm light for a relaxing environment.

Classification
18 06 06 08 - Floor lamps
The product series contains 1 product.
Product 1 of 1


Electra Floor Lamp

Color Temperatur: 2700K, 4000K, 6000K

Registration date

19-08-2021

Properties

Adjustable colourtemperature

Yes

Measures

Colour rendering, integrated bulp

95

Ra

CE-marking

Restriction of the use of certain hazardous substances (RoHS) - 2011/65/EU