All product information is provided by the supplier. The National Board of Social Services is not responsible for either contents, origin, flaws and deficiencies, or any kind of damage that may occur from the use of the information. The National Board of Social Services has no authority to endorse products and does not assess the quality of the products.
Hide this message
.
Etac reacher with power grip and hook, active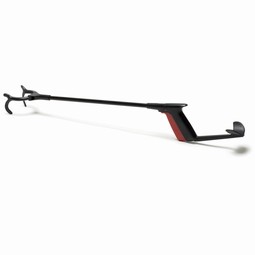 The jaws are turnable as on the other Aktiv reachers, but in addition equipped with hooks to enable pushing and pulling items. The handle is designed to maximise the strength of the hand and provides an effective grip. The jaws are coated with hardwearing rubber and have a magnet to pick up small metallic items.
Classification
24 21 03 01 - Gripping tongs, active
Documents
Brochure
The product series contains 1 product.
Product 1 of 1


Letvægtsgribetang med kraftgreb

Registration date

15-12-1997

Properties

Fitted with dressing hook

Yes

Measures

Test information

No information about tests according to standards
CE-marking
No information about CE-marking
The supplier has not provided any information about CE-marking of the product.
Explain CE-marking