All product information is provided by the supplier. The National Board of Social Services is not responsible for either contents, origin, flaws and deficiencies, or any kind of damage that may occur from the use of the information. The National Board of Social Services has no authority to endorse products and does not assess the quality of the products.
Hide this message
.
HEWI L-shaped support rail (950-series)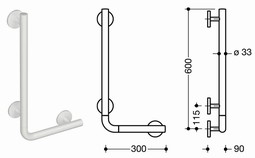 Classification
18 18 06 04 - Handgrips, fixed, angled
The product series contains 1 product.
Product 1 of 1


HEWI L-shaped support rail

Vertically and horizontally rails connected at right-angles.

Made of high-quality polyamide in HEWI colour 98 (signal white) or 99 (pure white).

With continuous, corrosion resistant steel core.

Diameter: rail 33 mm, rose 80 mm.

Can be mounted in left hand or right hand position.

Registration date

16-12-2011

Properties

Corner design

No
The handgrip is shaped for mounting in a corner with a part on each of the two walls.
Measures
Length of longest part
60
cm
Length of shortest part
30
cm
Depth
9
cm
The depth is the distance from the wall to the inside of the hand grip.