All product information is provided by the supplier. The National Board of Social Services is not responsible for either contents, origin, flaws and deficiencies, or any kind of damage that may occur from the use of the information. The National Board of Social Services has no authority to endorse products and does not assess the quality of the products.
Hide this message
.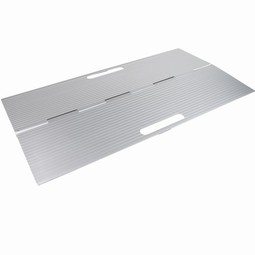 Threshold ramp consisting of two pieces of metal, connected in the middle by a hinge. The hinge ensures that the threshold ramps automatically adjusts to the height of the doorstep. Furthermore, the ramp can be folded along the middle and carried in the handles. The ramp has a grooved, non-slip surface for increased safety.
Classification
18 24 12 04 - Threshold ramps, double-sided
The product series contains 1 product.
Product 1 of 1


Threshold ramp, 40 x 76 cm, foldable

Registration date

18-06-2018

Properties

Measures

Length in direction of travel

40

cm

Threshold height, min

10

mm
The minimal height of threshold that the ramp can be used with
Threshold height, max
50
mm
The maximum height of threshold that the ramp is intended for
Test information
EN 12182:2012: Assistive products for persons with disability - General requirements and test methods.
Test lab: Centre for Testing and Certification. Test date: 12-01-2016
Test report for HMI-no. 85221
CE-marking
No information about CE-marking
The supplier has not provided any information about CE-marking of the product.
Explain CE-marking