All product information is provided by the supplier. The National Board of Social Services is not responsible for either contents, origin, flaws and deficiencies, or any kind of damage that may occur from the use of the information. The National Board of Social Services has no authority to endorse products and does not assess the quality of the products.
Delete this message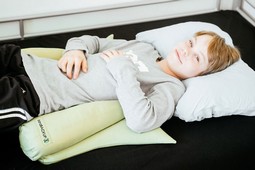 En stabil positioneringspude som giver symmetrisk støtte til både børn og voksne i både liggende og siddende stilling. Puden forebygger udvikling af fejlstillinger og kan give bedre søvn og afslapning i kroppen, samt støtte til aktivitet. Kan bruges i både seng og stol. Bestilles på mål for at opnå den mest optimale støtte (målskema hjemmeside).
Classification
09 07 06 02 - Multi purpose body positioners
The product series contains 1 product.
Product 1 of 1


Active Support Backup

Registration date

28-08-2018

Specifications
Intended for children
Yes

Products for children must comply with the specific demands for safety as stated in certain standards. It is the supplier of the product who has stated that the product is intended for children. The National Board of Social Services holds no responsibility in relation to this assessment.

(Optional) machine washable cover
Yes
Machine washable cushion
No
Cushion can be tumble dried
No