All product information is provided by the supplier. The National Board of Social Services is not responsible for either contents, origin, flaws and deficiencies, or any kind of damage that may occur from the use of the information. The National Board of Social Services has no authority to endorse products and does not assess the quality of the products.
Hide this message
.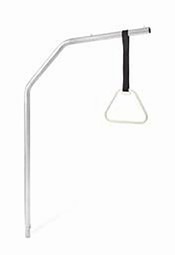 Classification
18 12 28 01 - Lifting poles
The product series contains 1 product.
Product 1 of 1


FloorBed 2 sengegalge

Registration date

06-11-2018

Properties

Only intended for use with specific products

Yes

Removable without tools

No

Height adjustable handgrip

Yes

Depth adjustable handgrip

Yes
Indicates whether the handgrip of the lifting pole can be placed in more positions on the lifting arm
Can be positioned parallel with end board
Yes
Measures
Load, max
75
kg
Maximum external load on the product that is permitted in normal use
Test information
No information about tests according to standards
CE-marking
The supplier has provided the following information about CE-marking of the product.
Explain CE-marking
Medical Device Regulation (MDR) - 2017/745/EU