Vicair Liberty Back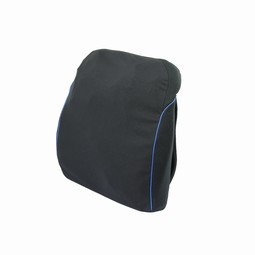 The Vicair Liberty Back System is a replacement for the wheelchairs standard sling back. The Liberty backrest can be adjusted to follow the contours of the spinal column. To install it, the strap back is placed over the tubes of the wheelchair and fixed by two clamps.
Classification
18 10 03 - 02
Separate back cushions
The product series contains 2 products.
The product series also includes a discontinued product. Change
Settings
to display this product.
Product 1 of 2


Vicair Liberty Back, 40-44 cm

Registration date

18-06-2004

Test information

EN 12182:2012: Assistive products for persons with disability - General requirements and test methods.

Test lab: Wormer Holland. Test date: 01-09-2016

Test report
Specifications
| | | |
| --- | --- | --- |
| Machine washable | No | |
| Width | 40 | cm |
| Height | 44 | cm |
| Adjustable | Yes | |
Product 2 of 2


Vicair Liberty Back, 44-48 cm

Registration date

18-06-2004

Test information

EN 12182:2012: Assistive products for persons with disability - General requirements and test methods.

Test lab: Wormer Holland. Test date: 01-09-2016

Test report
Specifications
| | | |
| --- | --- | --- |
| Machine washable | No | |
| Width | 44 | cm |
| Height | 48 | cm |
| Adjustable | Yes | |