Svan Bidet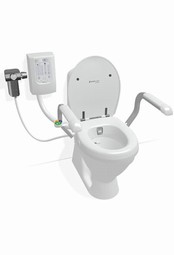 Svan Bidette R3 - automatic shower seat with air dryer.
Classification
09 12 36 - 04
Douches and air dryers for attachment to a toilet
The product series contains 2 products.
Specifications summarized
Specifications for the 2 products in the product series. Click a HMI-no. to see all details for a single product.
Product 1 - 2
Specification/HMI-no.
85015
70826
User weight, max (kg)
380
380
Seat width (cm)
37
37
Seat depth (cm)
41
41
Seat height (cm)

Measured from the upper surface of the bowl to the upper surface of the seat at the front.

-
-
Toilet opening width (cm)
22.5
22.5
Toilet opening depth (cm)
28
28
Number of jets
1
1
Pulsating water jet
-
-
Self-cleaning jets
-
-
Adjustment of water temperature
-
-
Air dryer
Yes
Yes
Adjustment of air temperature
-
-
Remote control
Yes
Yes
Probrammable for several users
-
-
Automatic energy conservation, "sleep mode"
-
-
Lid
Yes
Yes
Heated toilet seat
-
-
Arm supports
Yes
No
Built-in air cleaning
-
-
Can be used in combination with raising mechanism
-
-
Ingress protection class for water (IP-klasse)

0-9 (IPX0-IPX9) according to the standard for degrees of protection provided by enclosures (IEC 60529)

4
-