All product information is provided by the supplier. The National Board of Social Services is not responsible for either contents, origin, flaws and deficiencies, or any kind of damage that may occur from the use of the information. The National Board of Social Services has no authority to endorse products and does not assess the quality of the products.
Hide this message
.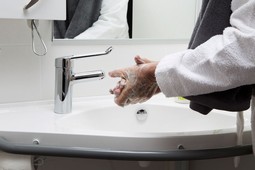 The faucet has a long, solid loop-lever, with clearly marked hot and cold indication. The lever is ideal for users with reduced mobility in arms and hands.
The faucet comes with disinfection wash proof Bidetta hand shower, with 150cm. shower hose. The hand shower is made of lightweight material, which makes it easy to use in all situations.
Classification
18 24 03 03 - Fittings  
The product series contains 2 products.
Product 1 of 2


Oras Medipro Faucet - 5510A

Registration date

18-12-2018
Product 2 of 2


Oras Medipro Faucet - 5510B

Registration date

18-12-2018